Walvax's Management Member Elected to DCVMN Board
Media
Oct 21, 2022
Walvax
(October 21st, 2022, Pune/India, Kunming/China) Walvax Biotechnology Co., Ltd. ("Walvax", together with its subsidiaries, the "Group", stock code: 300142.SZ) is pleased to announce that Mr. Andrew Wong, its Director of Business Development, was just elected as a board member of the Developing Countries Vaccine Manufacturers Network ("DCVMN") for a three years' term from 2023 to 2025 at its 23rd Annual General Meeting held in Pune, India, being the one and only board member from Chinese vaccine companies.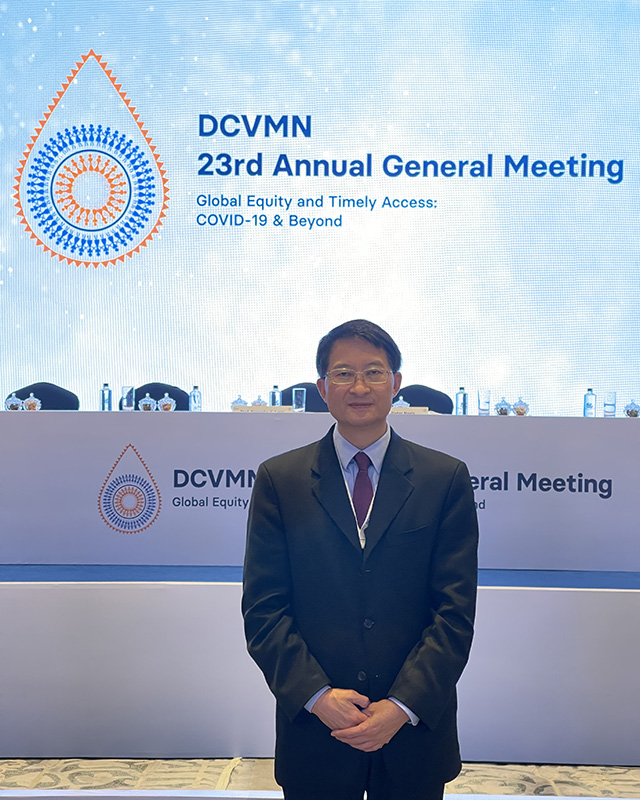 (Mr. Andrew Wong at DCVMN 23rd Annual General Meeting)
The Developing Countries Vaccine Manufacturers Network is a voluntary public health-driven alliance of vaccine manufacturers from developing countries, firmly engaged in research, development, manufacturing and supply of high-quality vaccines that are accessible to protect people against known and emerging infectious diseases globally. Its objective is to provide a consistent and sustainable supply of quality vaccines at an affordable price to developing countries. There are a total of 43 vaccine manufacturers from developing countries within this network.
Over the last 10 years, Walvax has transformed itself into an internationally recognized leading Chinese vaccine manufacturer. Till today, Walvax has successfully expanded its presence into 25 countries, contributing to the increased access of safe, efficacious and affordable vaccines to people living in those countries. In addition, Walvax has been working closely with and received supports from global public health organizations, including WHO, Unicef, the Bill and Melinda Gates Foundation (BMGF), PATH, Gavi, and Coalition for Endemic Preparedness and Innovation (CEPI) to promote vaccine equity in developing countries.
The Board of Walvax Biotechnology Co., Ltd., commented: "Walvax is a firm supporter for vaccine equity and has been actively engaged in promoting availability, accessibility, and affordability of safe and efficacious vaccines. We believe DCVMN's future direction and action will rely on of its common goal shared by, and progress made on increased supply of more life-saving vaccines developed by all of its member companies including Walvax. We are committed to fostering collaboration among all stakeholders in the developing country vaccine industry, to bringing the fruits of such efforts to benefit more people living in all DCVMN member states."
About Walvax
Founded in 2001, Walvax Biotechnology Co., Ltd. (Walvax) is a leading vaccine producer in China, and has engaged in research and development, manufacture and distribution of safe and efficacious vaccines. Headquartered in China's southwestern city Kunming in Yunnan Province, Walvax went to IPO in 2010 with ticker symbol of 300142.SZ and has started business expansion from traditional vaccines to innovative vaccines since then. As of October 2022, Walvax has successfully developed and commercialized 9 vaccines with a total of 13 presentations (vial and/or prefilled syringe), including SARS-CoV-2 mRNA vaccine (AWcorna), 13-valent Pneumococcal Polysaccharide Conjugate Vaccine (PCV-13) and Recombinant Human Papillomavirus Bivalent (Types 16,18) Vaccine (HPV-2). For further information please visit https://en.walvax.com/about-us/our-company and follow us on Twitter at @WalvaxBiotech and LinkedIn.
Related Links