Walvax and Etana Sign MOU for PCV and HPV Production Collaboration in Indonesia
Media
Nov 13, 2022
Walvax
(November 13, 2022, Bali/Indonesia, Kunming/China) The delegation of Walvax Biotechnology Co., Ltd. ("Walvax", together with its subsidiaries, the "Group", stock code: 300142.SZ) attended B20 Summit (the official G20 dialogue forum for the global business community) in Bali, Indonesia, and signed a memorandum of understanding ("MOU") with PT Etana Biotechnologies Indonesia ("Etana") at the signing ceremony. Under the MOU, Walvax and Etana shall collaborate on the localization of Pneumococcal Polysaccharide Conjugate Vaccine (PCV) and Recombinant Human Papillomavirus Vaccine (HPV) in Indonesia. This is the second vaccine collaboration between Walvax and Etana following SARS-CoV-2 mRNA vaccine.
The signing of the MOU is witnessed by Mr. Luhut Binsar Pandjaitan, Indonesia's Coordinator for Cooperation with China and Coordinating Minister, and Mr. Budi Gunadi Sadikin, Indonesia's Minister of Health.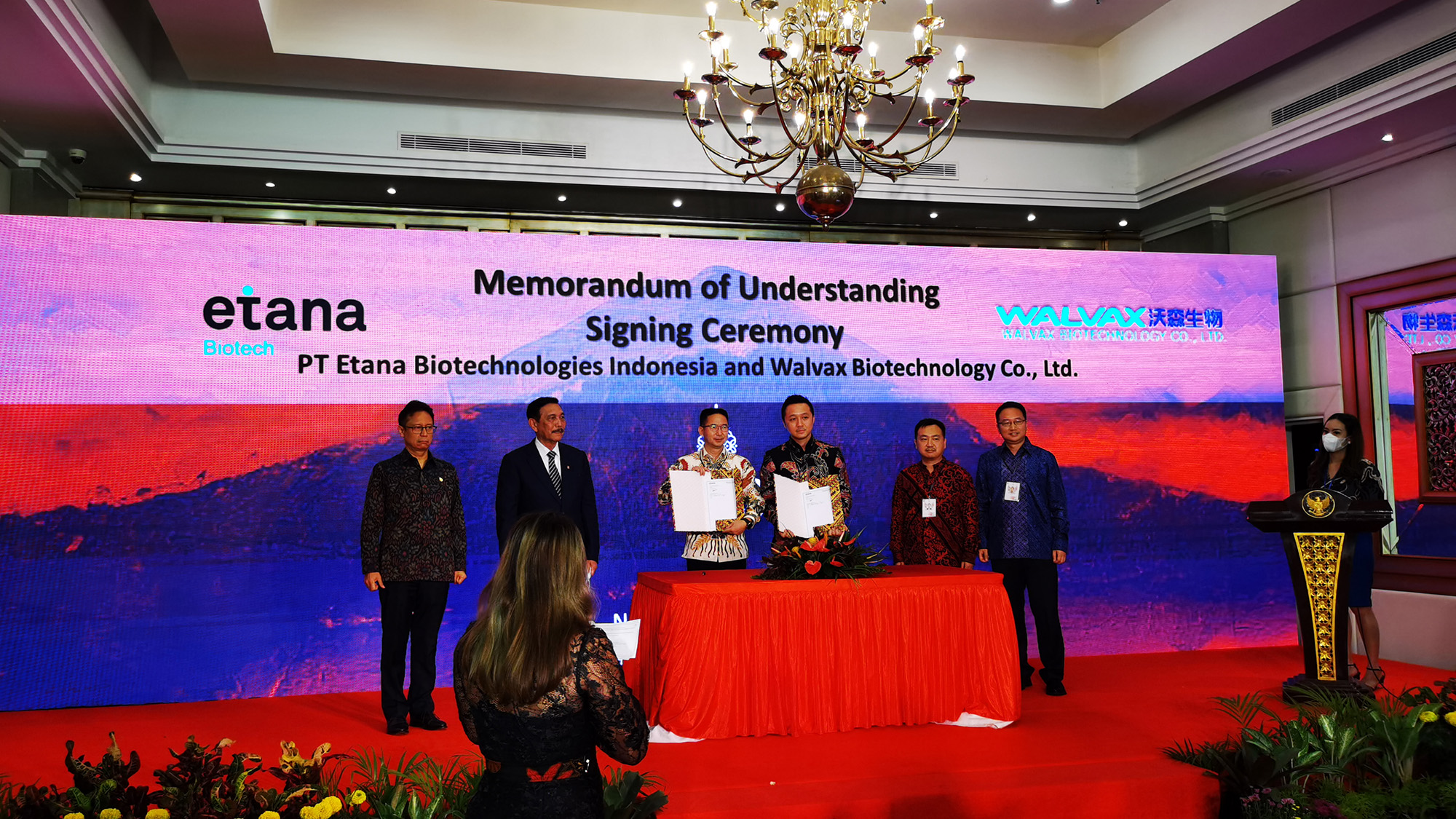 (Memorandum of Understanding Signing Ceremony between Walvax and Etana)
At the signing ceremony, Dr. Shaozhong Dong, Vice President of Walvax, said, "We are grateful for the supports from both governments. Walvax will work closely with Etana to build technology platform and production capability of several vaccines, in particular those with immense but urgent demand in Indonesia. It is significantly meaningful for us to play a role in Indonesian initiative to materialize vaccine self-reliance, and we look forward to providing more safe and efficacious vaccines to the people."

About Walvax
Founded in 2001, Walvax Biotechnology Co., Ltd. (Walvax) is a leading vaccine producer in China, and has engaged in research and development, manufacture and distribution of safe and efficacious vaccines. Headquartered in China's southwestern city Kunming in Yunnan Province, Walvax went to IPO in 2010 with ticker symbol of 300142.SZ and has started business expansion from traditional vaccines to innovative vaccines since then. As of October 2022, Walvax has successfully developed and commercialized 9 vaccines with a total of 13 presentations (vial and/or prefilled syringe), including SARS-CoV-2 mRNA vaccine (AWcorna), 13-valent Pneumococcal Polysaccharide Conjugate Vaccine (PCV-13) and Recombinant Human Papillomavirus Bivalent (Types 16,18) Vaccine (HPV-2). For further information please visit https://en.walvax.com/about-us/our-company and follow us on Twitter at @WalvaxBiotech and LinkedIn.
About Etana
Founded in 2014, Etana is an Indonesian biopharmaceutical company that is researching, producing, and marketing biological therapies for the Southeast Asian market. With a mission to serve patients by providing high quality, affordable, and innovative therapies, the company has built state-of-the-art local production facilities that meet international and Indonesian FDA standards. The facility is able to produce biological therapy with halal certification from the Indonesian Ulema Council (MUI). Etana aspires to become a leading biopharmaceutical company in the ASEAN region through aggressive expansion in production capacity and product development, with a primary focus on oncology and vaccine products. For more information about Etana, visit www.id.etanabiotech.com
Related Links