Walvax's PCV13-TT Receives Endorsement from the Pediatric Infectious Disease Society of Thailand
Media
May 19, 2023
Walvax
(Pattaya, Kunming -May 19, 2023) On the afternoon of May 19, 2023, the annual general meeting of the "Pediatric Infectious Disease Society of Thailand (PIDST)" took place in Pattaya, Thailand. The global marketing team of Walvax Biotechnology Co., Ltd. ("Walvax") was invited to attend the meeting. Dr.Wanatpreeya Phongsamart, Associate Professor of Pediatrics in the Division of Infectious Disease of Siriraj Hospital at Mahidol University in Bangkok, Thailand, presented a comprehensive introduction of Walvax's 13-valent Pneumococcal Polysaccharide Conjugate Vaccine ("PCV13-TT", brand name "Weuphoria") to the audience, which comprised of hundreds of influential figures in the Thai pediatric industry, authoritative pediatric doctors, healthcare experts and scholars, and representatives from vaccine companies.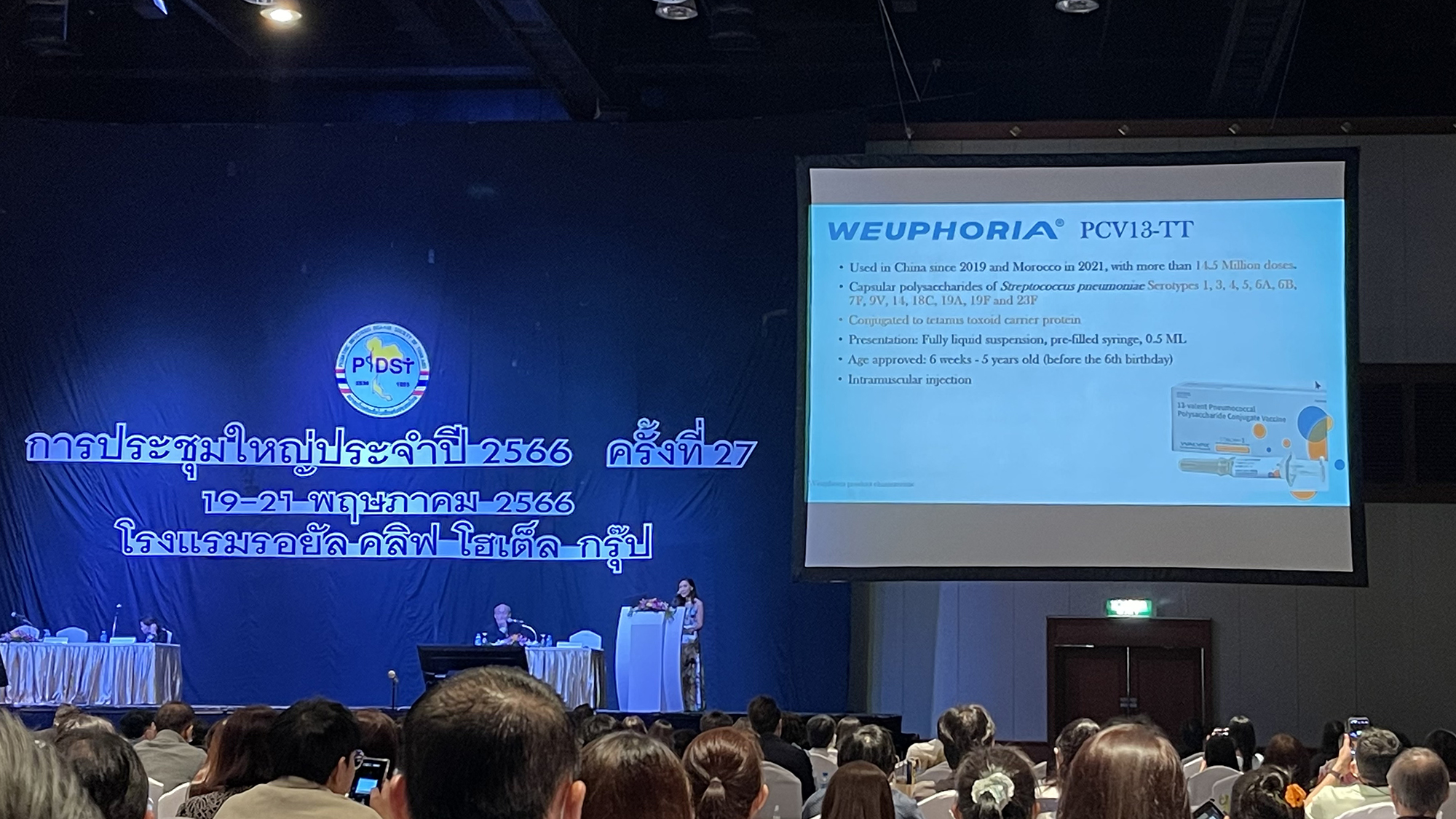 The endorsement of Walvax's groundbreaking PCV13-TT by the PIDST marks a significant achievement. The PIDST is committed to improving treatment and prevention of infections in children, with its mission of being a center of knowledge and academic in pediatric infectious diseases that is modern, impartial and credible. At the meeting, many clinicians, experts and scholars showed great interest and expectation for this vaccine, and eagerly participated in the Q&A session.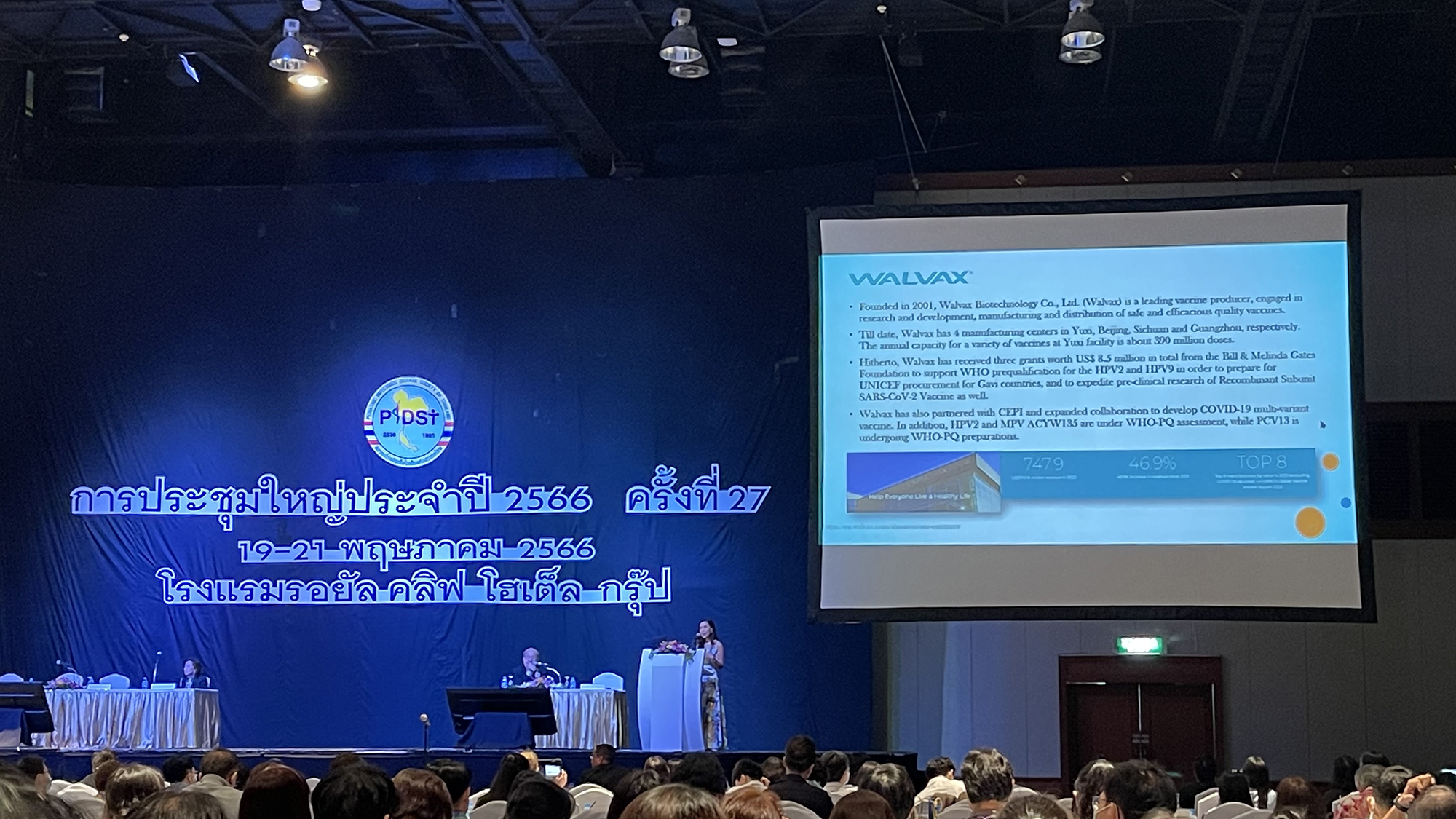 In accordance with the requirements of the Food and Drug Administration of Thailand, Walvax initiated the registration process for the PCV13-TT at the end of 2020, and is currently expediting preparations for the vaccine's launch and distribution in Thailand. Although the pneumococcal conjugate vaccine has not yet been included in Thailand's national immunization program, the country, with over 500,000 newborns annually, faces a certain disease burden from invasive pneumococcal diseases caused by Streptococcus pneumoniae. The prevalent serotypes in Thailand are covered by the 13-valent pneumococcal conjugate vaccine, suggesting the great significance of promotion and widespread use of PCV13-TT. Thailand, as the Company's key target market in Southeast Asia, is expected to become another milestone in Walvax's international business development.
About Walvax
Founded in 2001, Walvax Biotechnology Co., Ltd. (Walvax) is a leading vaccine producer, engaged in research and development, manufacturing and distribution of safe and efficacious quality vaccines. Headquartered in China's southwestern city Kunming in Yunnan Province, Walvax went to IPO in 2010 (300142.SZ) and started business expansion from traditional vaccines to innovative vaccines. With the vision of dedicating to be the pride domestically and the pioneer globally in the vaccine industry, producing efficacious, quality, innovative and affordable products to protect people from the world's deadliest diseases, Walvaxs purpose is to help everyone live a healthy life. For further information please visit https://en.walvax.com/about-us/our-company and follow us on Twitter at @WalvaxBiotech and LinkedIn.
Related Links