Walvax Participated in the 24th Annual General Meeting of the Developing Countries Vaccine Manufacturers Network (DCVMN) in Cape Town, South Africa
Media
Sep 27, 2023
Walvax
(September 27 2023, Kunming) Walvax Biotechnology Co., Ltd. ("Walvax", together with its subsidiaries, the "Group", stock code: 300142.SZ) is pleased to announce that the Group, as a member of DCVMN, was invited to attend the 24th Annual General Meeting of the Developing Countries Vaccine Manufacturers Network (DCVMN International) held in Cape Town, South Africa from September 19 to 21, 2023. Mr. Andrew Wong, Board Member of DCVMN International, Director of Business Development of Walvax and General Manager of its subsidiary Shanghai Wotai, delivered a speech at "Leveraging Innovative Platforms for Novel Vaccines" session at the meeting on September 21, and shared Walvax's efforts in establishing a mRNA vaccine technology platform through Covid-19 variant vaccine development for current pandemic preparedness and for more life-saving vaccines' research & development for years or even decades to come.

Developing Countries Vaccine Manufacturers Network is a voluntary public health-driven alliance of vaccine manufacturers from developing countries, firmly engaged in research, development, manufacturing, and supply of high-quality vaccines that are accessible to protect people against known and emerging infectious diseases globally. DCVMN has partnered with international organizations to promote global health with its member companies that offer safe, affordable, and efficacious vaccines to people living in developing countries. DCVMN has been closely working with are World Health Organization (WHO), Global Alliance for Vaccine and Immunization (Gavi), United Nations International Children's Emergency Fund (UNICEF), Coalition for Epidemic Preparedness Innovations (CEPI), Program for Appropriate Technology in Health (PATH), Bill & Melinda Gates Foundation (BMGF), Clinton Health Access Initiative, Pan American Health Organization (PAHO) and other public health players. Up to date, a total of 47 vaccine manufacturers from 15 countries and regions are members of this network. Among them, 12 Chinese vaccine companies are accounting for a quarter of DCVMN membership. DCVMN member companies manufacture over 60 different types of vaccines, supplying more than 170 countries worldwide, covering most middle-income, lower-middle-income, and low-income countries.
Themed "Accelerating Sustainable Regional Vaccine Manufacturing through Global Partnerships" and held in Cape Town, South Africa, this year's Annual General Meeting lasted for three days. At the Inaugural Session on the first day, H.E. Mr Paul Shipokosa Mashatile, Honourable Deputy President of the Republic of South Africa, delivered Chief guest address. Dr. Tedros Adhanom Ghebreyesus, Director-General of WHO, Mr. David Marlow, CEO of Gavi, Dr. Richard Hatchett, CEO of CEPI, Dr. Jarbas Barbosa da Silva Jr., Director of PAHO, and Dr. Nicaise Ndembi, Senior Advisor to the Director General of the Africa CDC, also addressed the audience.
Since January 1, 2023, Mr. Andrew Wong, Director of Business Development of Walvax and General Manager of its subsidiary Shanghai Wotai, has started serving DCVMN for a three-year term as a Board Member together with other board members from leading vaccine manufacturing companies from other developing countries. At the meeting, Mr. Wong attended the "Leveraging Innovative Platforms for Novel Vaccines" session remotely via video conference and delivered a speech. He shared Walvax's tremendous progress and remarkable achievements in building mRNA vaccine technology platform, which has laid a solid foundation for current Covid-19 pandemic preparedness and more life-saving vaccine development to prevent infectious diseases for years or decades to come. By collaborating with Fudan University and RNACure Inc., both in Shanghai, China with Covid-19 vaccine development programs, Walvax has established mRNA vaccine platform with 60-day lead time from having DNA sequence to completing vaccine sample test, along with preclinical, clinical and manufacturing process development, fully validating its feasibility and fast response capability to encounter emerging endemics.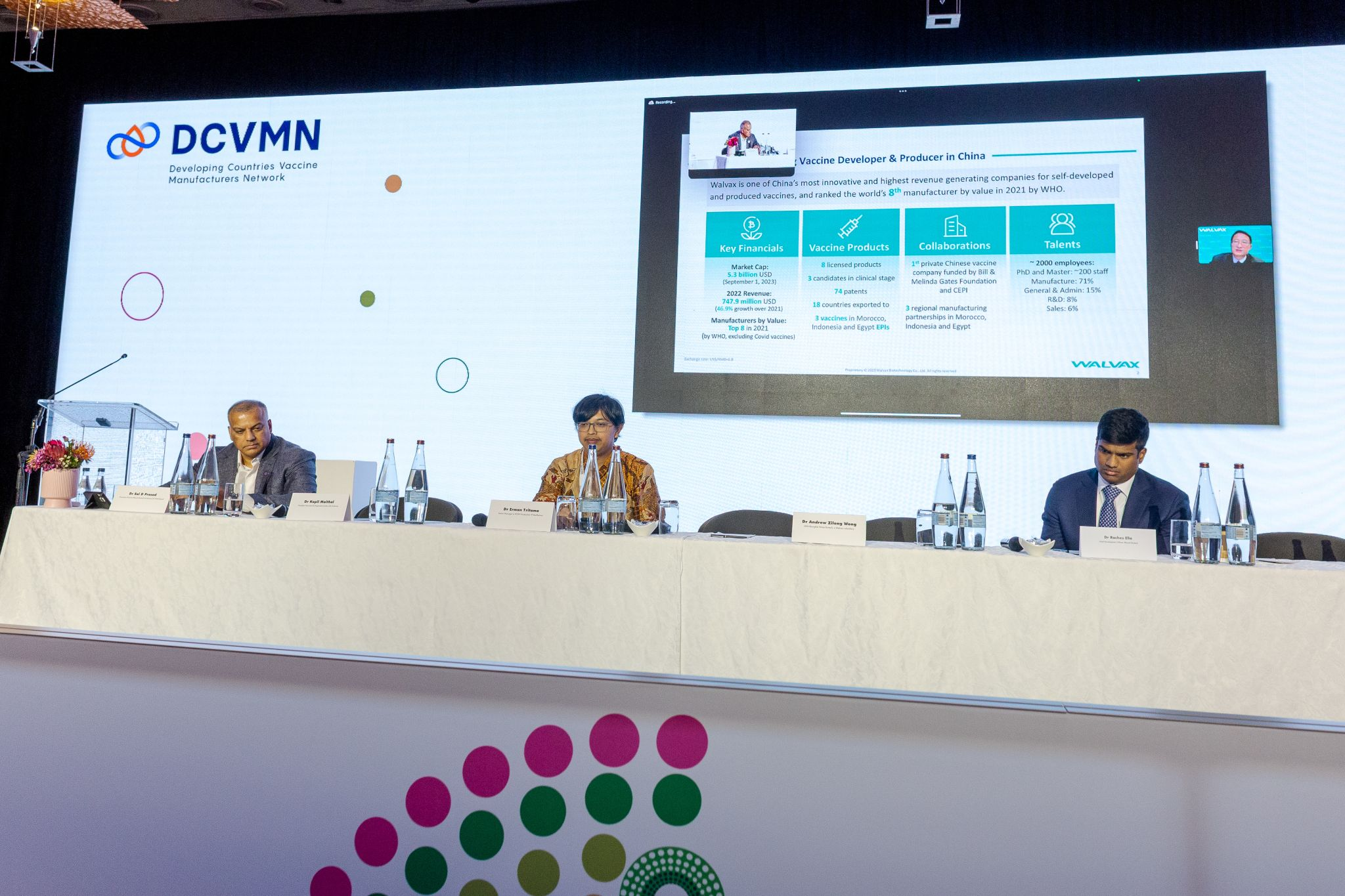 We only advance when we continue improve; we only thrive when innovate. Innovation is a part of Walvax and has ingrained in its genes. Walvax banks on its success on innovative vaccine development and continues to offer safe and efficacious vaccines to people living in China and other developing countries. Since its inception in 2001, Walvax has developed and launched 8 vaccine products to the global markets, including its leading 13-valent pneumococcal polysaccharide conjugate vaccine (PCV13) and its first HPV vaccine (HPV2). As of today, we have supplied more than 270 million doses in China and other 17 developing countries, where its PCV13 has become a part of national immunization program (EPI) vaccines in the Kingdom of Morocco since last year, and its Group A and C Meningococcal Polysaccharide Vaccine (MPV AC) has been the EPI vaccine in the Arab Republic of Egypt for the last 6 years. With the establishment of its mRNA vaccine technology platform, Walvax is continuing developing more life-saving mRNA vaccines to prevent diseases caused by respiratory syncytial virus (RSV), influenza virus and other pathogens. Adherent to "Help Everyone Live a Healthy Life" mission, Walvax is committed to leading technology innovation in the Chinese vaccine industry, becoming a dependable global vaccine supplier, spearheading knowledge sharing and exchange of industry experience with all stakeholders, and promoting accessibility, availability, and affordability of innovative and next-generation vaccines by iterative vaccine design approach in more countries.
During this meeting, a total of 12 sessions were held. Other 11 sessions were Partnerships for Global Health Impact, Accelerating Sustainable Regional Vaccine Manufacturing, Regulatory Reliance and CRP, Integration of C19 vaccines in RI & Strengthening Adult Vaccination Delivery, Access to capital - Removing financial barriers for local manufacturing, Novel Technologies deployed in Bio-manufacturing, Strengthening Vaccine Production Capacity & Pandemic Preparedness, Learning & Development of Vaccine Workforce in Global South, Innovations in Science & Technology-Exploring Cutting-edge Solutions to Drive Innovation in Vaccine Manufacture, Market Access 4 Global Impact and Harnessing Women Power in Expanding Immunization Coverage.

About Walvax
Founded in 2001, Walvax Biotechnology Co., Ltd. (Walvax) is a leading vaccine producer, engaged in research and development, manufacturing and distribution of safe and efficacious quality vaccines. Headquartered in China's southwestern city Kunming in Yunnan Province, Walvax went to IPO in 2010 (300142.SZ) and started business expansion from traditional vaccines to innovative vaccines. With the vision of dedicating to be the pride domestically and the pioneer globally in the vaccine industry, producing efficacious, quality, innovative and affordable products to protect people from the world's deadliest diseases, Walvaxs purpose is to help everyone live a healthy life. For further information please visit https://en.walvax.com/about-us/our-company and follow us on Twitter at @WalvaxBiotech and LinkedIn.
Related Links